...Please pardon the wool dust...
April - I will be away from the web from April 10th - 22nd. Shipping will start on Apr 23/13
Feb - All of Maggie Bonanomi books have been restocked including "Book of Days" -
it's like an appliqued scrapbook/journal, templates included, makes good use of scrap wool...so much fun to make for friends and family!
Just finished dying the new colours for spring 2013, I've listed some strips and squares on whats new. As well some old and weathered wool that I will be listing this weekend:
Also, just finishing up on one of Maggies appliques but I did it in a light version...just for a change....
I have no info on the projects yet but you have to know that you won't be disappointed when it comes to Maggie's books. They just keep getting better and even better yet if you know what I mean !!!
I started to add a new product called "My Inspiration". They are 8" x 8" cuts, hand dyed woollens that are inspired by todays quilting fabrics. A departure from my dull & dusty primitives that I love, to alittle bit brighter, softer mottling...perfect for Stitchers and Quilters.
I hope you like them! Love to hear your thoughts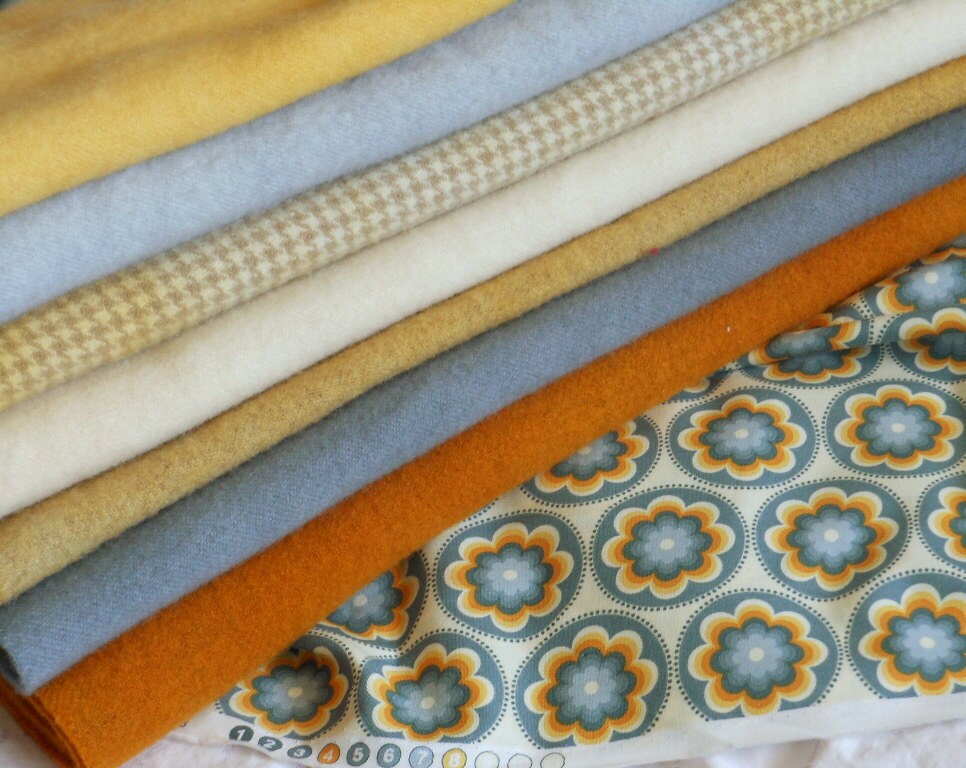 I have been working on some kits to offer you, the first is from a French magazine called "Simply Vintage" quilts & crafts Vol 2.
This is a completely French language mag that is well worth the price to have shipped over from France, to get my material requirements I typed in the French to Google translate and it gave me the amounts. Anyway, I highly recommend this mag it has it all and this issue actually features some primitive American retail shops that I'm sure you will recognise.
Don't delay...this magazine does sell out.
The project I have kitted is called:
Although I love this design as a pillow I have kitted it to be a mat and perfect for throwing over your bed pillows.
This kit only includes the material...
you have

to order the book for the pattern